About Me: And My CBX's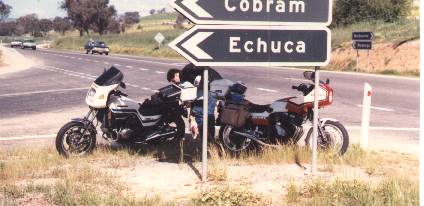 Touring in Victoria, October 1983. The other bike is a good friend's Honda VF750S Sabre.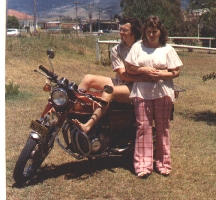 My first bike and my wife, two of my first loves!


I've always been a middleweight bike rider. I started riding in 1974 with a Honda 350/4, a little gem of a bike, though, on reflection, a bit under-powered. For a first bike, though, it was good. The biggest mistake I have ever made was to trade the 350/4 on a new Honda MT125 trail bike, a de-tuned and road going version of the famous Elsinore Moto-X bike.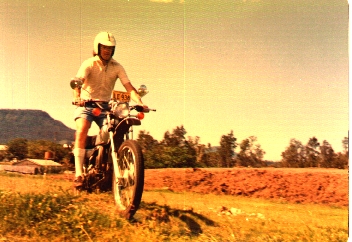 One of Honda's greatest ever blunders, the MT125


And when I say it was de-tuned, I mean it was DE-TUNED. It didn't have enough power to pull the skin off a rice pudding, a front brake that existed in name only and all the adhesion of a flea caught in a typhoon. Disenchanted with using trail bikes on the road, I progressed to a new Yamaha RD250 in 1975, the only two stroke road bike I've ever owned. I dabbled in trail bikes at the same time, also owning a Yamaha TY250A trials bike.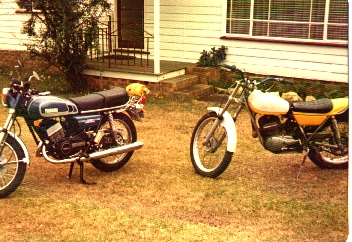 The stable, late 1975.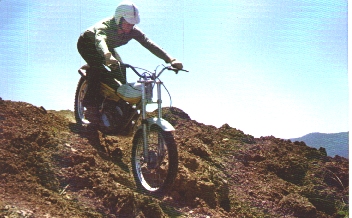 The TY250 made even a hack dirt bike rider like me look good.


At various times I have gone without bikes (kids on the way, house deposits to arrange, etc..), so when I sold the RD250 it was a year or so before I bought again. My next bike was a delicious little Honda 400/4, which was everything the 350/4 should have been. It handled, had power, a 6 speed gearbox and a wonderful four-into-one exhaust system.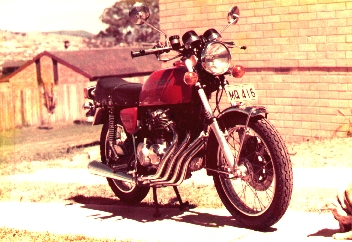 The 400-4, the spititual ancestor of the CBX550.


I kept the 400 for a few years until I got the hankering for a bigger bike. The Road Racing Club had been formed and most of the guys had 900's and 1000's and on tours and rides up to race meeetings in Sydney, the 400 was a little shaded.

So I lashed out and bought a Honda 750/4, the F1 model. It had heaps of power, but it handled like a wheelbarrow full of wet walrusses. I sold it several months after, having ridden it only a few times. Looking back on it now, it is obvious to me that all that was wrong with it was that the steering head bearings were shot to pieces. Had I known enough to have fixed them, I'm sure that I could have kept the bike for many years and enjoyed it thoroughly.

Another period without a bike followed until I got bitten by the bug again. But my bad experience with the 750 had me looking for a middleweight again and I found a delightful 1973 model Honda 500/4 in almost new condition in late 1979. I loved it and it restored my faith in Hondas.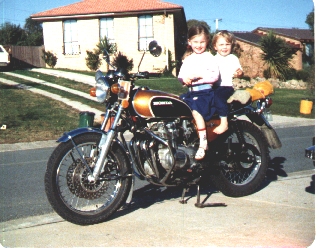 Indoctrinating my two young children into the joys of motorcycling.


It had the old pivoted caliper single front brake that was totally ineffective in the wet and when the opportunity was presented to upgrade, I took it. A mate in the bike club had wrecked a Suzuki GT750, the water-cooled triple, and he sold the complete front end to me for $85.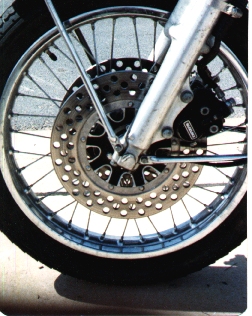 Close up of the VERY sanitary front end conversion.


There is a saying that ignorance is bliss and, looking back on it now, the audacity of me expecting that I could somehow graft this different front end onto my bike, amazes me. But, I did it and, along with a friend removing 2 and a half pounds of metal from each of the two front disks, and some other custom fitting tricks, I ended up with a 500/4 that handled 100% better, stopped beautifully and stopped in the wet as well.

I kept the 500 until 1983 when the sale of our house meant that we were able to get a better car and a newer bike. This time I was determined that I would stick with the middle-weights after having such a brilliant run from the 500/4. I read voraciously all the literature and comparison tests, finally deciding that it was a choice between the two 550 sports bikes, the CBX550 and the GPz550 Kawasaki. And really that wasn't a choice at all, because even though the testers generally preferred the Kawa to the Honda, my allegiance had pretty much always been to the Hondas and besides, the CBX was just so "trick" compared to the no-nonsense Kawasaki.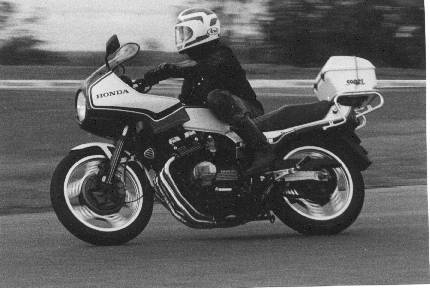 Acting Travelling Marshall at a Club Day, Oran Park 1984


I finally found a low mileage 550F2 example (the one that I particularly wanted) at the late Len Willing's Wyong bike shop on the Central Coast of New South Wales. Apart from an exhaust system that threatened to fall off in my hands, the bike was exactly what I was looking for. I replaced the standard exhaust almost immediately (the bike had 21000kms on the clock) with an O'Brien 4-into-1, had the carbs tuned to match it and so began 5 years of exhilarating motorcycling.

I used the bike for everything. I commuted, did the shopping, rode once a week to Newcastle and back (200 mile round trip) and did my first really serious touring (see picture above). With a set of canvas "throw-over" panniers and a token plastic top box, I was hooked on covering long distances. Elsewhere, I have recorded the mechanical specifications of the bike and it suitability for touring, but, despite it's sporting pretentions, I found it to be an excellent tourer. In mid 1984 I did a two week tour of New South Wales and Victoria, riding on my own for the whole time, and the bike ate the whole thing without the slightest complaint. I found that Belstaff riding gear didn't REALLY keep you dry and that a sheepskin seat cover was a good idea. Three years of riding around south east Queensland followed and again the bike performed faultlessly. During this time only routine maintenance was carried out with only a few major items needing attention (fork seals, steering head bearings and rear swing arm bushings.)

Late 1988 saw the purchase of another house, this time back in Canberra again, so the bike was reluctantly sold so we could raise a deposit. I had always looked on the sale of my bikes as an adventure, knowing that something else was waiting around the corner, but the sale of the CBX was different. I felt like I was saying goodbye to an old faithful friend. At the time of sale, the bike had nearly 90000 kms on it.

Again, recovery from house-buying meant a while without a bike, but once the time came around again, I made the same mistake I had made before. I became convinced that, since I was hooked on touring, I should buy a TOURING bike, so I parted with the cash and became the proud owner of a Suzuki GS850G shaft drive.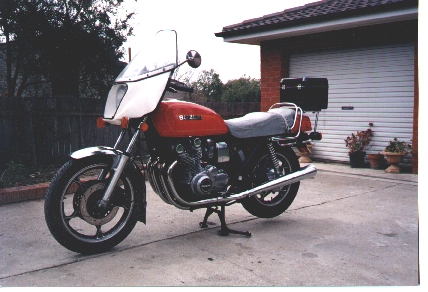 The unlamented GS850G Suzuki.


What a BORING motorcycle it turned out to be, thoroughly competent and totally unexciting. Added to that, while it was a brilliant tourer, most of my riding was commuting and round town stuff and the heavy Suzuki was too heavy for me. So it reluctantly went and I started searching for a CBX550 again. I quickly found one at a local shop here and bought it. It was a standard F model, again in red/black/orange and was fitted with a 4-into-1 that was LOUD!!!!! I knew it would never pass rego with the pipe the way it was and the dealer quietened it down for me. But the quietening process also took the edge off the performance and it never really excited me like my old bike had, and I missed the F2's fairing. So I sold it shortly after and started looking for an F2 again.

By now it was 1991 and the short lived nature of the model and the less than careful nature of many who bought CBX's when the model was current meant that everywhere I asked had the same story; either they had a CBX but it was a heap of junk or they told me that I'd never find a good one now. Finally, I tracked down my present pride and joy. It was owned by a lady whose husband owned TWO CBX's, not 550's, but the monster 1000cc Six Cylinder ones. One was his regular riding bike and one sat under a cover in his garage having never even been started, let alone ridden! John had bought the 550 for his wife, Margaret, to ride when they went on Sunday tours up to the Hunter Valley. It was a 1982 model and, when I bought it in mid 1991, it had 8500kms on the clock! It came with a pair of Krauser panniers, a heap of spares and was actually an "F" model that John had converted to "F2" specifications by buying all the necessary parts from his Honda dealer and fitting them himself.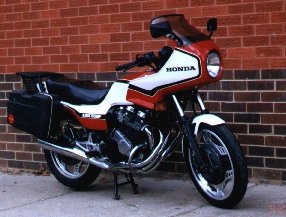 My pride and joy, showing to good effect the standard exhaust system and the non-standard Krauser panniers and rack with which my bike came fitted.



That's why the sidecovers don't say "F2" like they should...one day I will buy a set of F2 covers..yeh, right. Anyway. I brought it home in a ute since it had been out of rego for nearly a year, registered it in Canberra and re-introduced myself to the joys of CBX. This bike was a jewel. It had never been thrashed and had scarcely a mark on it. I have ridden it since then, now having 23000 kms on the clock. During that time it has spent some time off the road having fork seals, carburettors, rear brake master cylinder and a few other minor things attended to. The bike still has the standard exhaust system on it, but it has been patched several times and probably won't take another lot of welding. I have now sourced a company that makes a stainless steel replica exhaust that looks exactly like the standard one but will never rust. I am saving up!

Exhaust system update: December 1999. After bringing the bike out of winter storage and prepping it for summer riding, I found that the left hand muffler, the one that had not been welded before, was completely rusted through right around the periphery, just after where the muffler joins the collector. So, with a replacement pattern system costing $A600 and Christmas just around the corner, I have taken the cheap way out and bought a 2nd hand Tranzac 4-into-1 which scrubbed up quite well and works OK. It clears the panniers so there's no problem there as well. I will have to save up for a 4-into-2 though, cos I love the look of the bike with a standard system.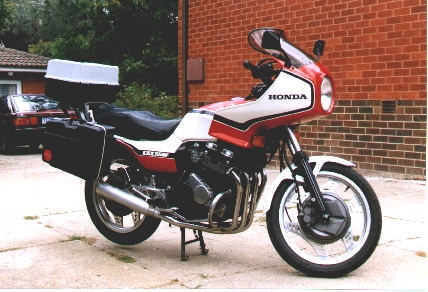 December 1999 pic of my CBX, showing the Tranzac 4-into-1. Note also my cheap solution to a top box. A A$29.95 tool box from Bunnings! Waterproof, plenty of capacity, lockable and comes with a plastic tray inside that now resides in my workshop housing my socket collection. Outstanding value!



By the way, check out the photos I added recently from Canada of a MINT CBX550F with a genuine 4000k's on the clock!



NEWS UPDATE July 23rd 2002!



Well, it's some time since I updated the site and I guess, in light of what's happened, I should. You see, after 11 years of happy ownership, my CBX and I have parted company. Hard to believe but it's true. I have been able to purchase a 1995 Honda VFR750 and I can't afford to keep two bikes, so the CBX has been reluctantly sold.

However, the good news is that it's gone to a very good home, a lady in Melbourne who already has a 550F and wanted to stay with the marque but have a much better bike and in better condition. I am totally confident that it has gone to a home where it will be kept, loved and cherished, so it's not as bad as it seems.

I will continue to maintain this site and am happy for you to continue to contact me about any matters CBX'ish. I will always look back with great pleasure on the many years that I spent riding this great bike. Happy riding.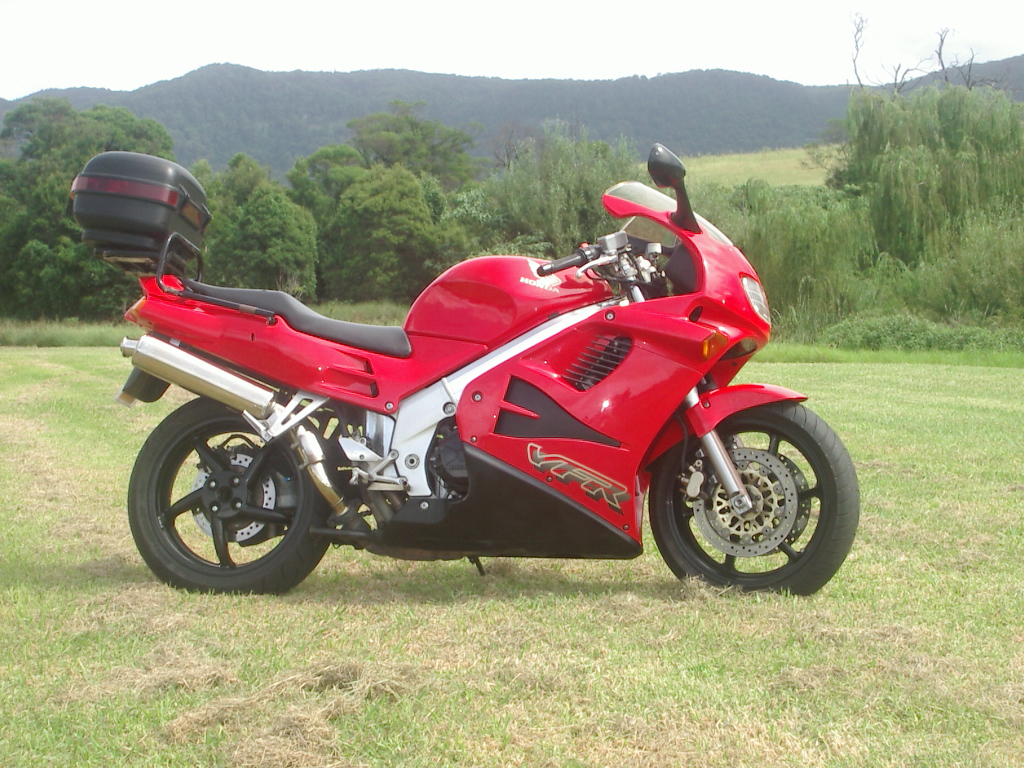 My new pride and joy. 1995 Honda VFR750


I remain convinced that the CBX range was an opportunity that Honda missed. I wish they had persevered with it a bit longer and fixed the few problems it had (timing chain tensioner, nervous front end) and I believe it could have become a legendary bike of its time. As it is, it doesn't worry me, I think it's a legend anyhow!

Long live the CBX550!



Phil Hall, Canberra, ACT, Australia, June 1998.





Return to Main Page.
---
Copyright © 1998 HallTech Consultancy. Photos © HallTech Consultancy.