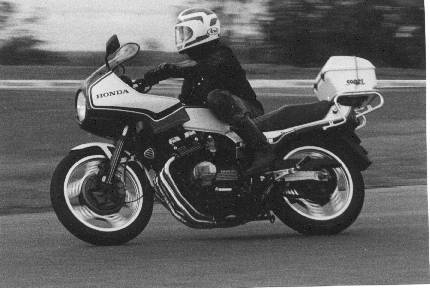 The Joys of CBX
A Home Page dedicated to the long-gone, but not forgotten Honda CBX400/550 Four Cylinder series.
---

Welcome. This site is a bit of self-indulgent nostalgia, no apologies. But, if you can bear with that, then please dig in and find out a lot of what you might need or want to know about a little gem of a motorcycle that sadly had all too short a life span. I hope that I can provide some valuable information as well as links to people and organisations that can help with tips, specifications and owner details, to see if we, together, can keep what remains of this landmark model on the road and being enjoyed by true motorcycle enthusiasts. (And, yes, that IS me, riding my CBX550F2 at Oran Park Raceway in Sydney in 1984) Phil Hall 11-11-97
---

What You'll Find at This Site:

• CBX Facts: What Was the CBX Anyway?.
• About Me: And my CBX's.
• Technical Forum: Tips and Tricks.
• Links: To other CBX owners and Enthusiasts.
• Pictures: of CBX's from all round the world.
• CBX Oddities: The Ones that Got Away..

---

Other Motorcycling Sites of Interest:

•With your CBX. The Original CBX site, from Yutaka Yasuda in Japan.
•Dorna.com Home of the World Motorcycle Championship
•SBK. Home site of the World Superbike Championship.
•Ivo Opsral's CBX Page.A Czechoslovakian CBX site. Good pictures.
•Whitehorse Press.The source of CBX Workshop Manuals.
•Motorcycle Online One of the best sources of all types of Motorcycle News.
•Cycle News. Fabulous motorcycle site with regularly updated Racing section.
•Bike Net. A UK based site that also has a heap on interesting information.
•Fred Gassit's Page A light-hearted look at motorcycling (Warning; this is an "M" Rated site!)
---
You can send e-mail to Me, (Phil Hall)
This page last updated on July 23rd 2002.
Copyright © 1998 HallTech Consultancy. Photos © HallTech Consultancy (and donated photos).